Happy July, everyone! I'm just sitting here trying to comprehend how the year can be
half over… Can anyone tell me what happened?? O_O
For me, at least, June kind of vanished in the blink of an eye — summer is flying, peoples! But here's an update on some of my doings…
I can't think of a single non-writerly/non-readerly thing of interest, besides doing a phenomenal amount of blogging in June including catching up on all my tags. Which I am extremely proud of myself for. Basically I'm an ecstatic blogger at this moment. But! Writing and books! And lists. Let's have some lists because lists are awesome.
Writing
I did wriiiting! I'm so excited. Most of this year has been a slow arena in the writing world. I say arena because I halfheartedly wrestle my stories and they easily best me and then go sit in the shade and sulk without me. Which makes for a lonely writer… But! That changed in June because I was super inspired and ended up working on five different stories and pounding out 11k words! That may be small potatoes to some of the big writer folks out there, but for this little weakling, I find myself quite unusually proud of me.
5k of that was working on a couple of lesser stories in the Kedran's Wood series, messing with Tare backstory which is fun (Son of Kedran's Wood [0.5], and Return to McAllistair Mansion [1.5, short story]). Like 500 words of KW2, The Secret of Kedran's Wood… yes, that's slow right now. But happening! Which is still good!
And between a random snippet and that writing dare I posted that I'm leaning toward fitting into The Other Half of Everything somehow… that's about 1500 words on that story. It's still in the snippet stage, but hey, I won't complain if it gets some of itself written already. 😉
And most of all, I'm very excited about getting about 3.5k words of my short story Darkling Reflections written! I diiid hope to finish it in June but at least I wrote the middle part and now just have the final third to do. So. That's kind of awesome.
Um… and such nitty-gritty details of what-I-wrote-and-words is probably is of no interest to anyone but me. Ahem. But ANYWAYS. I basically wrote 11,000 words of awesome in June and feel extremely happy and inspired. I also had a couple of epic ideas for fairytale retellings I plan to write and got some plotting notes down. So THAT'S always fabulous. 😀
I will totally have to post some snippets because AAALL THE WRITING.
Reading
I wanted to read way more than that, but apparently I got a goodly amount of reading done all the same… Huh.
The Hobbit is a reread, naturally… and just as awesome as always.
Alice in Wonderland and Through the Looking Glass (finally), as well as Stargirl and Love, Stargirl (totally random), were all small and rather mixed-feelings books that kind of left me a bit torn going "meh", though they did have their merits I suppose.
Perfect Scoundrels — I finally read the last Heist Society book! Which as always was awesome. Cleverness and Hale. Yes. The author totally must write more…
Wildwood Dancing and Illusionarium — I had complaints for both, but were generally amazing. Another Twelve Dancing Princesses book (still working on those!). And my first steampunk, so yay! …I feel like all I've been doing on my blog lately is talk about Illusionarium (without even talking about it really or reviewing it or anything. O_O). I will stop, I promise! Ahem…
Anyways, that's the reading I got done. A fairly good month, I guess?
July Nightstand Books
Aaand it being the first Wednesday of the month, not to mention first DAY of the month, I can't resist posting the stuff I hope to read in July — so here I am, linking up with the Nightstand Books meme as started by Jenelle and D.J. It's usually the first Wednesday of the month, I thiiink…
Here's what I want to read… though I have no illusions (arium or otherwise har har) about actually getting them all read this month. BUT I CAN TRY.
AREN'T THEY SO PRETTY.
I'm STILL in Veiled Rose… I can't believe it. But I'm trying to finish that soon. Poor Leo. *pets him*
Plenilune… Erm… Yes, I started it on Christmas, so I've officially been in this book for half a year now. IT'S. SO. BIG. I'm only 137 pages in, out of 659… I may cry. Ahem. However, it's kind of delightful so far in its way, just verrry slow to wade through. *puffs and pants and puts on little-engine-that-could mentality* I think I can, I think I can!
And yes, I'm finally going to read The Scarlet Pimpernel. Because my bookclub is reading it. Every single person I know seems to have read and loved it and I'm always being told to read it. So I finally am going to, yay! I love stuff like that so I hope it will be awesome.
I don't know if I'll get to Out of Darkness Rising and Mist of Midnight, but I've been dying to read both of them for so long that hopefully I will… They just look so delicious.
Aaaand also some ebooks.
See, that's the problem with ebooks, they don't fit beautifully on stacks on nightstands… *cough* BUT THESE ARE AWESOME ANYWAY, SO.
Yes, I'm ashamed to say I'm STILL in Chasing Shadows, which I do need to finish and review, but despite my slowness it's kind of awesome anyways (WILL IS FABULOUS) and I'm working through it but it's super long and I'm a very slow PDF reader, I fear…
Same with Five Enchanted Roses, which I'm SUUUPER excited and grateful to get to be an influence reader for Jenelle Schmidt's entry, Stone Curse! *flaiiiil* Lookit that gorgeous. I can't WAIT to dive into this. I'm very very excited. Expect a review on that sometime later this month too, hopefully!
And then of course there's still that Twelve Dancing Princesses Collection I'm working through. So many! They are mostly super dark, whodathunk. XD
Random Bookish News
I just need to flail a bit about this: there is an official cover for Jill Williamson's next fantasy book, King's Folly! Read the post. It's the first book in the Kinsman Chronicles, which are kinda-sorta prequels to the Blood of Kings Trilogy (which I love. A lot).
She's been writing sci-fi and dystopian and contemporary spy stuff for awhile now, which are great but not FANTASY if you know what I mean… So the fact that there's another Jill Williamson fantasy book coming out (albeit adult instead of YA) just kind of excites me. Now I just have to wait till next spring. Whyyy. The life of a bookworm is tough, you guys, let me tell you. *falls dramatically across couch*
Anyways enough of my babbling — Coverrrr!! ❤ (Books just become REAL when they have covers, you know what I mean?)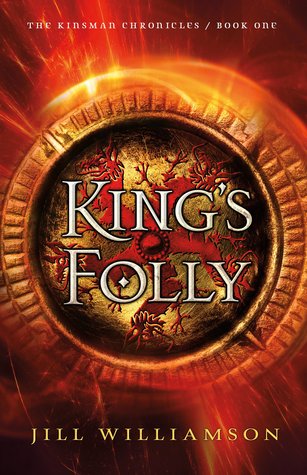 ***
Basically this whole post was about booooks. With a small side of writing. But what can I say. I'm very bookwormy these days. IT'S SUMMER AND SUMMER IS FOR READING RIGHT. I think I'm also now addicted to blogging. This may be a problem…
So that's what's up with me!
How about you?
Did you have a good June? Have plans for July?
Are you doing Camp NaNo??
(I'm not. *hides shamefully behind a tapestry*)
Also. IT'S ONLY FOUR MONTHS TILL NANOWRIMO. *drops bombshell and calmly walks away as if nothing happened*